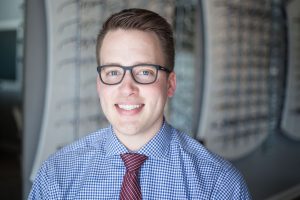 Dr. Matthew Clark
Dr. Matthew Clark grew up in Fishers, and graduated from Lawrence Central High School in 2006. He then received a B.S. and an M.S. in Biology from Purdue University before heading to Indiana University for his Doctorate of Optometry. Prior to Carmel Eyecare, he worked at the LASIK Vision Institute in Carmel and at Zionsville Eyecare. Dr. Clark strives to provide thorough ocular care and education to all of his patients, offering primary care, contact lens services, and ocular disease management.
Dr. Clark is a die-hard Colts and Arsenal fan. In 2013, he married Zionsville Eyecare optician, and lifelong friend, Katie Clark. They are renovating an old farmhouse in Atlanta, IN, with their spoiled pit bull rescue, Quincy. They are expecting their first son, Lawson, in February, 2017.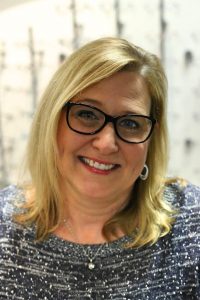 Sherri
Sherri is originally from Northern Indiana, where she began her optical career before leaving briefly to start her family of 3 wonderful children. Sherri returned to the optical field around 2003 and worked 13 years at Optique Eyecare in Lawrence, before transitioning to Wittmann 20/20 Family Eye Center. She and her very supportive significant other, Rick, now have a blended family of 5 children who keep them very busy. In her free time, she enjoys spending time with her family and friends, reading, and gardening.
In December, 2016, Sherri was promoted to manager of our little practice and keeps everything running smoothly. She prides herself in being able to find the perfect frame for every style, fit, and prescription. We are truly lucky to have such talent in our front office.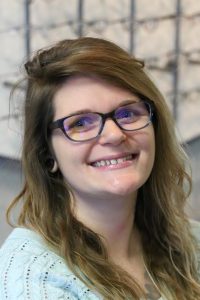 Maya
Maya is a native of Beech Grove. She has a bachelor's degree in Clinical Medical Assisting is working on a second bachelor's in Neuroscience. Working previously as an assistant in a Primary Care medical office, she joined Wittmann 20/20 Family Eye Center in 2016 and is now our head technician.
Maya is married to her loving husband of 7 years, Nick, and has two active daughters, Auna and Coraline, ages 9 and 8. In her spare time, Maya enjoys drawing, working on the house, and spending time with her beautiful family.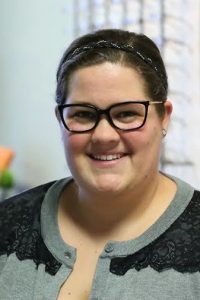 Allison
Allison is from Brownsburg. She graduated from The Art Institute in 2012 with her Bachelors degree in graphic design. Allison works the reception desk at Carmel Eyecare part-time and can otherwise be found traveling the country doing freelance photography.
In her free time, Allison enjoys traveling, volunteering at Freedom Church in Lebanon, and hanging out with her 7-year-old Maltese, Jack.